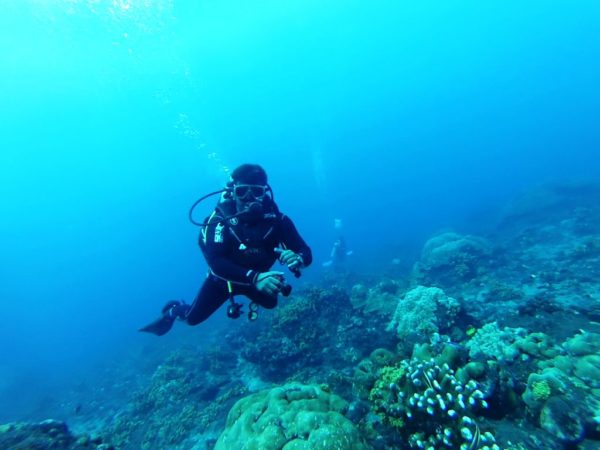 If you have never tried scuba diving before and you want to try it now, then Swaraj Dweep ( Havelock) is the best place for you. Diving in Havelock is exceptional and offers a variety of marine life from small reef fish to even turtles on a good day. Warm water, underwater visibility, diverse coral life, and abundant marine life make this place unique.
Types of Scuba Diving for Beginners
Shore Diving:
The intent of this program is to give non-swimmers or absolute beginners an opportunity to experience the underwater world in a confined and open water setting. It only takes a few hours and will give you a taste of the adventure that lies ahead.
Boat Diving :
Now, this is a bang. Boat Diving is the most challenging way of Scuba Diving. Most of the adventure seekers these days choose the boat dive.  It is the perfect way to see the untouched marine life and some pelagic species such as Humphead parrotfish, devil rays, leopard sharks, barracuda, and many more.  As usual, your personal instructor will tag along with you underwater followed by equipment donning, dive briefing, etc.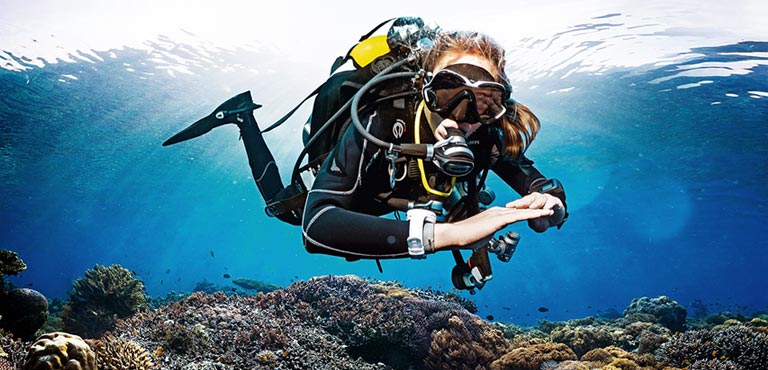 SSI Basic Diver :
This program gives you the opportunity to experience the underwater world, in confined water and open water setting – without committing to a longer certification program. If you decide to become an Open Water Diver within six months of completing your Basic Diver program, your first open water dive will be credited as one of the required training dives.
Facts :
| | | |
| --- | --- | --- |
| Minimum Age: | : | 10 |
| Certification Prerequisites | : | None |
| Academic Sessions | : | Basic Diver |
| Pool/Confined Water Sessions | : | 1 |
| Open Water Dives | : | 1 |
| Maximum Training Depth | : | 12 meters / 40 feet |
| Suggested Duration | : | None |
If you wish to save time you can finish your online training by clicking the below link:
https://www.divessi.com/online
Dives Sites Offered
Nemo Reef :
This is another dive site famous for its easy going diving conditions and the enormous sea life you got to see. We mostly use this dive site to conduct Try Scuba and Open Water courses. This very accessible dive site is a real treat for first timers with a great marine life and an enchanting mangrove beach.
To be seen : Parrot fish, Pipe fish, Bumphead, Octopus, Sea snake, Crocodile fish, Moorish Idol, Damsel fish, all kinds of anemone fish, Scribbled file fish, Brain coral, Sea horses.
Red Pillar :
This dive site offers a lot for beginners in terms of marine life.  A strong current flows perpendicular to this site and should be taken into consideration when planning to dive there. With the current, there are sometimes thermoclines. Pelagic species are never in short supply here and makes for an exciting experience.
To be seen: Parrotfish, Pipefish, Bumphead, Octopus, Crocodile fish, Moorish Idol, Damselfish,  Oriental sweetlips, Brain coral, barrel sponge, flounder.
Best Time  to Dive
Diving is conducted throughout the year in Andamans. But October to April is the best time to dive as the water conditions & visibility is considered as best during these months. It's always good to have a look at the weather report before you finalise the dive.
Most of the diving activites happen in early morning due to mild sunlight and less wind. But you must speak to your dive Instructor or operator who can guide you to plan your dive.
We strongly recommend to book your scuba diving in advance, so that the facility can plan the best possible experience for you. Most of the dive school on the islands have limited staff due to Covid -19, so dont forget to book your slot in advance.
Feel free to get in touch with us, if you have any dive related questions.