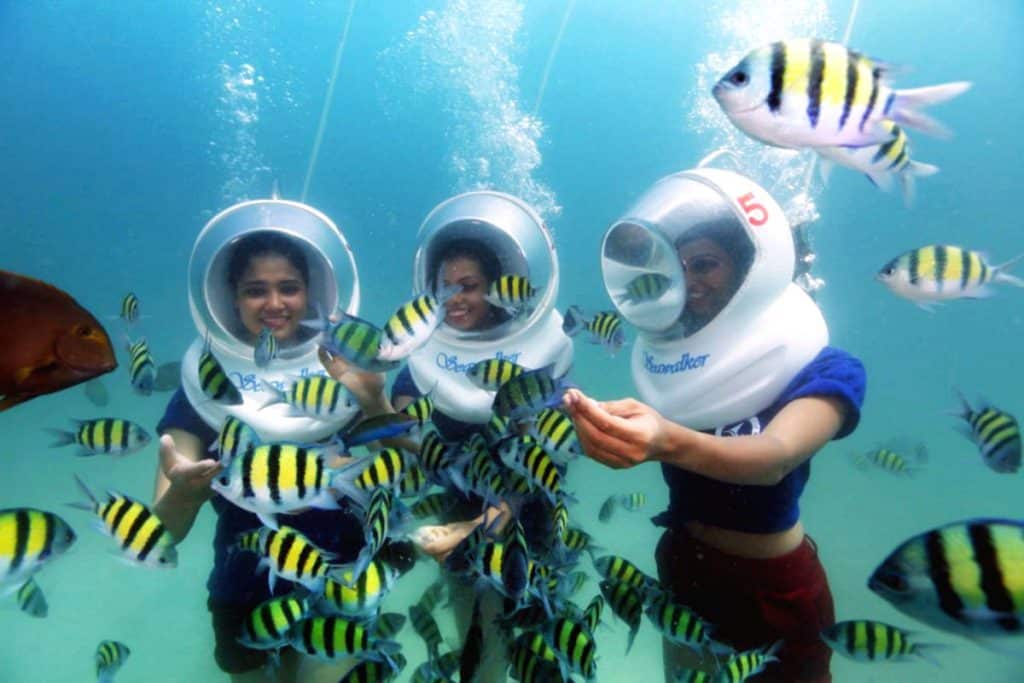 Andaman offers a wide variety of water sports but sea walk is a unique underwater experience that can be enjoyed under just the perfect setup. The first place to offer Sea Walking in India were the Andaman & Nicobar Islands, and they remain an excellent option without having to dive and swim constantly.
 Clear and relatively less polluted water make Sea Walking in Andaman even more outstanding. There are only two places where you would be able to do sea-walk in Andaman.
Swaraj Dweep aka Havelock Island
North Bay
Best Places To Sea Walk In Andaman
Swaraj Dweep aka Havelock Island
Swaraj Dweep (Havelock) , Elephant Beach is a heaven for water sports in all of Andaman and probably has the most diverse collection of activities at one place in India. It's no amaze that the sea walk in the isles started from here and it is still the best place to experience it.
Once you are inside the water the weight of your body fades away and you are suddenly surrounded by hoards of fishes and sea creatures that present a beautiful scene around you. To make it even more amusing, the vendors will provide you with bait to feed the fish, so you can feel them around you without having to walk. This dense coral forests house some of the most colorful and rare fishes that Andaman has to offer.
The waters surrounding the beach is famous for wide strips of underwater volcanic formation that houses one of the most richest coral population, accessible to tourists in the Indian ocean.
North Bay Island, Andaman- Platform for Water Sports Boarding. North Bay is the second best place to experience sea walk, and is constantly loved by tourists for all the underwater splendor it has to offer.
The corals here are divided into small yet dense parts which are home to dozens of magnanimous fish species and lobsters that are waiting to be gazed at in awe and wonder. The island has to be reached only by a boat and there are no hotels or other place to stay in the island, so you'll have to return back to Port Blair within the same day.
A graceful place to visit for sea walk if you'd like a marvelous experience and don't mind spending some time there.
Is Sea walk Safe in Andaman ?
Anyone from age between 10 and 50 can do sea walk without any difficulties. Our trained and certified guides are always in the water to ensure safety and proximity to conduct the program safely. Persons suffering from asthma, heart problem and pregnant women should not be allowed to go for sea walking.
Andaman Travel Guides 2022